Home > > Free March Monthly DLC out for Monster Hunter 4 Ultimate
Free March Monthly DLC out for Monster Hunter 4 Ultimate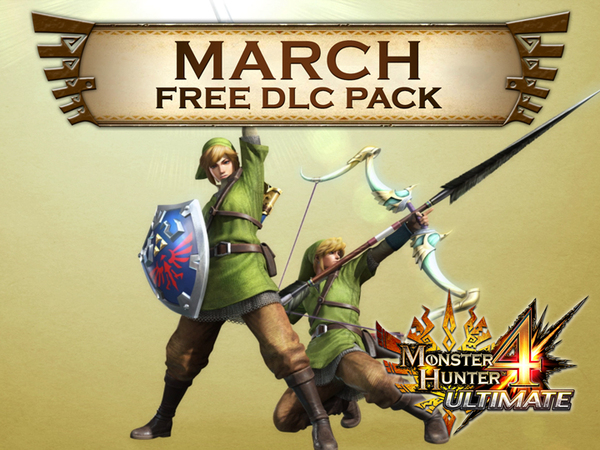 The first of many free monthly DLC packs for Monster Hunter 4 Ultimate is available courtesy of Capcom. This pack is DLC themed and features 14 new quests, 11 new weapons, 8 armor sets, among much more. Included in this pack is also the two winning designs from the Monster Hunter 4 Ultimate Weapon Design contest: Clockwork Insect Glaive and Emperor's Speech Hunting Horn. The Monster Hunter Caravan Tour also kicks off today at PAX East in Boston. You can check out the DLC trailer and full press release after the break!
>
The first DLC pack for the recently released Monster Hunter 4 Ultimate for Nintendo 3DS is now available. These free monthly packs include downloadable quests and content and will be available on the first Friday of every month for the next several months.

This month's pack includes the much-anticipated The Legend of Zelda collaboration gear in addition to more than 10 new quests, new armor sets, weapons, Palico gear and more. Players can take on a challenging monster trio to claim the Triforce and craft Link's Hero armor, and take on the fiery wyvern Akantor to collect the Goddess's Fire which can be used to craft the "Hero's Sword" and "Hero's Bow" weapons. Also available now are new quests that yield crafting items for the two winning designs from the Monster Hunter 4 Ultimate Weapon Design contest: the steampunk style "Clockwork Insect Glaive" and the adorable Poogie throne—er, horn—the "Emperor's Speech Hunting Horn."

Also starting today and through this weekend at PAX East in Boston, the traveling caravan from the world of Monster Hunter 4 Ultimate comes to life with the first stop of the Monster Hunter Caravan Tour. Fans can head over to the Capcom booth (#9068) to check out the custom themed setting, purchase exclusive merchandise, and play a demo of the game on New Nintendo 3DS XL or bring their own copy of the game to meet up for hunts with other players. More information on additional Caravan stops will be available soon.