Home > > Free April Monthly DLC out for Monster Hunter 4 Ultimate
Free April Monthly DLC out for Monster Hunter 4 Ultimate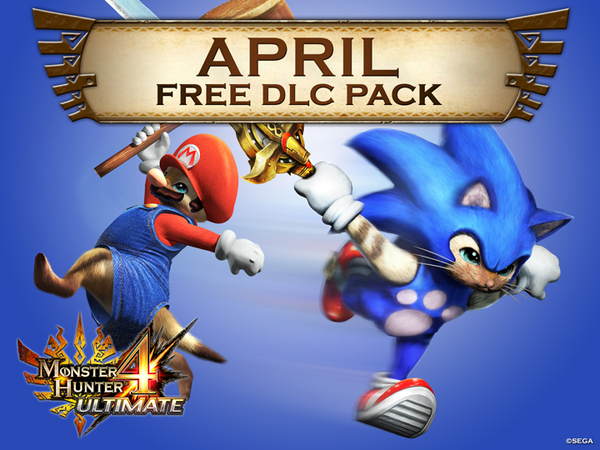 The newest free DLC pack for the month of April is now available to download in Monster Hunter 4 Ultimate. The theme of this month's pack is Super Mario Bros. and Sonic the Hedgehog, gear for your Palico is available accordingly. This pack includes 14 new quests, 2 new weapons, 3 complete armor sets, 4 Palico weapons, among many other goodies. You can download these as well as the March DLC (Legend of Zelda theme) from the DLC menu in Monster Hunter 4 Ultimate on 3DS. The free monthly DLC packs will continue to e available on the first Friday of every month. Continue reading for the trailer and full press release.
The second DLC pack for Monster Hunter 4 Ultimate on Nintendo 3DS is now available. These free monthly packs will continue to be released on the first Friday of every month for the next several months. This month's content features access to the Sonic the Hedgehog and Super Mario Bros. collaboration content, a total of 14 new quests, new gear for hunters and their Palicoes, and more.

Players that defeat the Congalala and Emerald Congalala subspecies in the "Mario: Oh, brothers" quest will earn materials that can be used to craft gear for their AI Palico companions – the Mario and Luigi costumes and Invincible Hammer weapon. The "Super Sonic Seregios" quest will put players in a fast-paced fight against a Frenzied Seregios. Successful Seregios hunters will be able to craftSonic the Hedgehog gear for their Palico comrades.

More new quests in this pack feature challenges against some of the game's most iconic and legendary monsters such as Shagaru Magala, Fatalis, and Kirin, and will allow players to make some cool new gear for their hunters.

You can check out a new trailer that offers a look at some of the new content as well as instructions on how to unlock and access everything in-game on the Capcom-Unity blog at http://www.capcom-unity.com/dubindoh/blog/2015/04/02/monster-hunter-4-ultimate-free-dlc-line-up-for-april

The traveling caravan from the world of Monster Hunter 4 Ultimate has been brought to life and will be making its next stop this weekend April 3-5 at WonderCon in Anaheim, CA as part of theMonster Hunter Caravan Tour. Fans can head over to the Capcom booth (#1640) to check out the custom themed setting, purchase exclusive merchandise, and play a demo of the game on New Nintendo 3DS XL or bring their own copy of the game to meet up for hunts with other players.