Home > > An Update Given on Playtonic's Yooka-Laylee
An Update Given on Playtonic's Yooka-Laylee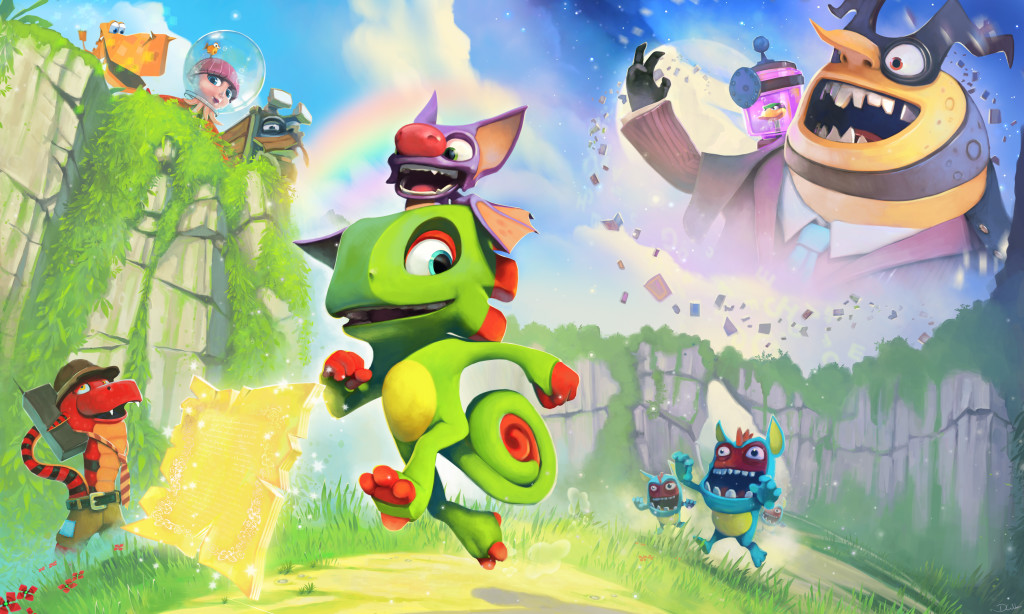 Back one year ago in May of 2015, Playtonic Games, a newly formed studio made up of former Rare employees, launched the Kickstarter for their new game, Yooka-Laylee. Many fans showed their support by backing the Kickstarter campaign, wanting a great 3D platformer. The Kickstarter ended the next month with a total of 73,206 backers and a total of £2,090,104. Since then, multiple updates have been given out, and now, the next big update on the game has been released. Keep reading for more on the current progress of Yooka-Laylee.
This new update came with a new trailer for E3 2016, which can be viewed below, and an update on the release schedule. While the Kickstarter page for the game originally mentioned a release of October 2016, the team has decided to add a few extra months to polish up the game even more, now set for Q1 2017. The new trailer showcases tons of new gameplay footage, such as more of the world, some of the characters, as well as new gameplay elements such as Laylee flying levels. You can check out the new trailer below, as well as the full update they've provided on their website. Are you excited for Yooka-Laylee?
After months of toil and tease, we're as chuffed as chips to finally release the Yooka-Laylee E3 2016 trailer into the wild!

As well as revealing the first gameplay in over a year, this video also confirms that, after long consideration and knowing through dialogue with our fans that they value quality and polish above all, we've made the difficult decision to lock the release of Yooka-Laylee to Q1 2017.

While we felt confident we could ship the game in October as originally projected in our Kickstarter, the Playtonic team has decided that it would prefer to add a few extra months' polish to the game schedule.

Ultimately, this will allow us to deliver a better game to the tens-of-thousands of you who've supported us throughout development. And that's what we all want, right?

We're sure some will be disappointed by the prospect of a few extra months' wait, however the team is confident that we've made the right decision for the game and that you'll be pleased with the results when Yooka-Laylee arrives early next year.

You can see via the new screenshots on the Yooka game page what we've been able to achieve in just one short year and a few extra months will ensure that our maiden voyage is an even more impressive one come the day we dramatically sail into port.

From now until the end of next week, don't be surprised if you see more Yooka-Laylee coverage appear on your favourite sites and video channels – and the Kickstarter Toybox experience is still planned to arrive sometime in July.

Thanks again for your support. We hope you enjoy the trailer – and see you at E3!