Home > > Nintendo Switch Nindies Showcase Coming February 28
Nintendo Switch Nindies Showcase Coming February 28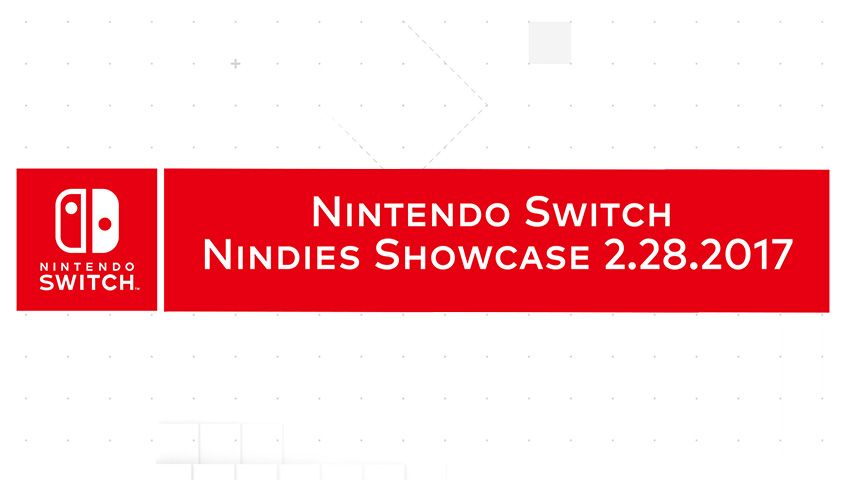 Many Nintendo fans are eager for the arrival of the Nintendo Switch as well as The Legend of Zelda: Breath of the Wild and other games at the end of this week. With the Switch releasing this week, Nintendo has decided to have a showcase to show off some of the upcoming Nindie games coming to Nintendo Switch, and hopefully some release dates for those games. We can only hope we can see games like the upcoming Yooka-Laylee shown off in this presentation, since it was previously moved from Wii U to Switch. Keep reading on for more Nindie information before the Switch launch.
Nintendo has also announced that Yacht Club Games' Shovel Knight: Specter of Torment and Shovel Knight: Treasure Trove, as well as Shin'en Multimedia's FAST RMX will all be launch Nindie titles for the Nintendo Switch on March 3. Additional info was given about the Nintendo Switch's eShop including news on Virtual Console, shared wallets, a news feature, and a system update.
After getting your Nintendo Switch and connecting online, you will be able to link your NNID and Nintendo Account to your Switch so that you can access a shared wallet on the eShop, which will be useful if you have leftover money on other Nintendo devices. There will unfortunately be no Virtual Console at launch, but more information on it will be given in the future. One of the new shortcuts on the Switch's home menu will be a news feature area, where you can check out the latest Nintendo Switch news on upcoming features and games. Finally, to be able to access the eShop at all, there will be a required day one update which will add all the online features to Nintendo Switch. So if you'll want to be able to check out the eShop on your Switch, make sure to update your Nintendo Switch to the latest version.
Will you be getting a Nintendo Switch and any of the Switch Nindie games this week? Be sure to catch the Nintendo Switch Nindie Showcase tomorrow at 9am PT (12 noon EST) on the website and get your Nintendo Switch on Friday, March 3. We will be covering the Nindie Showcase tomorrow, so stay tuned for that as well. Check out Nintendo's press release about all of this down below.
Nintendo eShop, indie games ready for Nintendo Switch launch

The launch of the Nintendo Switch system is rapidly approaching on March 3, and Nintendo can confirm that Nintendo eShop will be ready to go, complete with a lineup of downloadable indie games. To celebrate many of these upcoming "Nindie" creations before launch, Nintendo will host a Nindies Showcase video presentation on Tuesday, Feb. 28, at 9 a.m. PT. Just visit http://live.nintendo.com to watch.

This year, Nintendo eShop will be home to more than 60 indie games, in addition to digital versions of packaged games, DLC and more. Three indies that will launch at the same time as the system on March 3 are:

FAST RMX from Shin'en Multimedia

: Challenge your friends to local split-screen competition or take part in online races against players from all over the world. This lightning-fast anti-gravity racer is exclusive to Nintendo Switch.

Shovel Knight: Specter of Torment

from Yacht Club Games: The latest DLC for the critically acclaimed hit

Shovel Knight

is a full-featured game starring Specter Knight, one of the enemies from the original game. The massive campaign includes even more content than the last DLC, Plague of Shadows.

Shovel Knight: Specter of Torment

is exclusive to Nintendo Switch for a limited time.

Shovel Knight: Treasure Trove

from Yacht Club Games: For Shovel Knight's biggest fans,

Shovel Knight: Treasure Trove

includes the original

Shovel Knight

game, as well as all previously released DLC – even

Shovel Knight: Specter of Torment

!

Shovel Knight: Treasure Trove

will be exclusive to Nintendo Switch for a limited time.

Some additional news about the launch of Nintendo eShop on Nintendo Switch includes:

People who already have funds in their accounts on other Nintendo devices can access them using a shared wallet that works on Nintendo Switch as well. Once they link their Nintendo Network ID and Nintendo Account and then their Nintendo Account to their Nintendo Switch system, this functionality becomes possible.
Virtual Console games will not be available on Nintendo Switch at launch. We will share more information in the future.
A news feature will offer updates about the latest additions to Nintendo eShop, as well as providing information about upcoming games and other updates from Nintendo.
To access Nintendo eShop, a system update that will be available on launch day is required. The system update downloads in the background, is designed to install quickly and doesn't disrupt gameplay.

After visiting Nintendo eShop on Nintendo Switch for the first time, gamers can also purchase Nintendo Switch digital games on Nintendo.com. Users can purchase the games on Nintendo's website and have them download automatically to their Nintendo Switch system at home or on the go, wherever there is a Wi-Fi connection.

For more information about Nintendo Switch, visit http://www.nintendo.com/switch.