Home > > Nintendo Direct March 3, 2016 Recap
Nintendo Direct March 3, 2016 Recap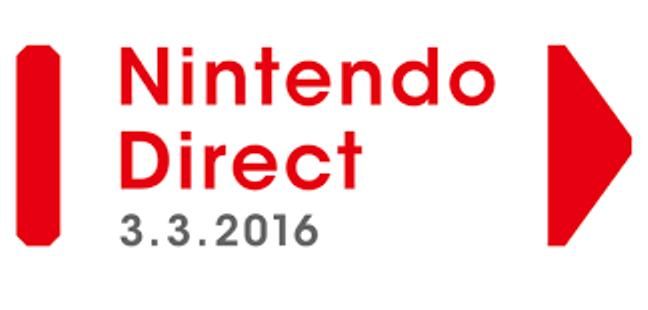 Earlier today, Nintendo hosted their first (Second counting the Pokemon Direct last week) Nintendo Direct of 2016. The main focus of this Direct was on Wii U and 3DS games releasing through summer 2016. Some of the games included in this Direct were updates on games like Star Fox Zero, Splatoon, and Super Mario Maker, as well as introductions of new games such as Paper Mario on the Wii U and a new entry to the Rhythm Heaven series. Keep reading below for the full press release of the Direct, and to watch the Direct. Be sure to check back here at NintendoCastle for more updates on these exciting games!
REDMOND, Wash.--(BUSINESS WIRE)--In a new Nintendo Direct video, Nintendo revealed new games on the way for itsWii U and Nintendo 3DS systems, as well as additional details about previously announced titles. From new games in the Kirby and Paper Mario franchises to a companion game for Star Fox Zero, this is one video that can't be missed.

To view the Nintendo Direct video in its entirety, visit http://www.nintendo.com/nintendo-direct. Some of the highlights revealed in the video include:

Wii U

Nintendo 3DS

Nintendo eShop on Nintendo 3DS

amiibo

Remember that Wii U and Nintendo 3DS feature parental controls that let adults manage the content their children can access. For more information about this and other features, visit http://www.nintendo.com/wiiu orhttp://www.nintendo.com/3ds.

About Nintendo: The worldwide pioneer in the creation of interactive entertainment, Nintendo Co., Ltd., of Kyoto, Japan, manufactures and markets hardware and software for its Wii U™ and Wii™ home consoles, and Nintendo 3DS™ and Nintendo DS™ families of portable systems. Since 1983, when it launched the Nintendo Entertainment System™, Nintendo has sold more than 4.3 billion video games and more than 692 million hardware units globally, including the current-generation Wii U, Nintendo 3DS and Nintendo 3DS XL, as well as the Game Boy™, Game Boy Advance, Nintendo DS, Nintendo DSi™ and Nintendo DSi XL™, Super NES™, Nintendo 64™, Nintendo GameCube™ and Wii systems. It has also created industry icons that have become well-known, household names such as Mario™, Donkey Kong™, Metroid™, Zelda™ and Pokémon™. A wholly owned subsidiary, Nintendo of America Inc., based in Redmond, Wash., serves as headquarters for Nintendo's operations in the Western Hemisphere.